---
Paul and Roz Wilcocks met on a Top Deck Overland tour bus, and now they will be spending plenty more time in one.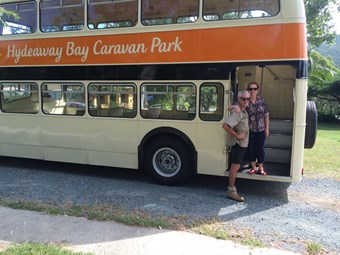 Paul and Roz Wilcocks are enjoying their restored Top Deck bus
Paul Wilcocks still fondly remembers the first time he drove a Top Deck Overland tour bus in the 1980s.
"I was backpacking and sailing around the world, jumping boat to boat," he told ABC. "I got to London and saw an advertisement for Top Deck and they were desperate for road crew.
"I went to do the training trip and got the shock of my life. But I ended up driving around Europe for a season doing half a dozen trips."
After stumbling upon Top Deck Overland tours, Wilcocks found it hard to leave. He was driving or acting as a tour guide on what was known as a party bus around Europe and from London to Kathmandu. Wilcocks recalls many great moments on board the bus, including meeting his wife Roz.
Fast forward 40 years and Wilcocks is finding himself again on a former Lodekka model Top Deck double-decker bus.
It wasn't easy for Wilcocks to find the old-style bus and restore it in north Queensland's Hydeaway Bay. Based in the Whitsundays, Wilcocks stumbled upon the former Top Deck bus after seeing the company's reunion plans on a Facebook group.
He then traversed the internet until he could secure a Lodekka 503BTA model of a Top Deck bus from a wrecking yard – the same model he drove from London to Kathmandu and back. It was shipped to Australia, but not without problems.
"We first had to get it cleared in customs so it had to be squeaky clean with no gas or oil on it," Wilcocks said. "We had it painted over, sandblasted and restored to road-worthy condition.
"We then waited ten weeks for it to arrive in the Port of Brisbane, only to find that the motor wasn't working."
From Hydeaway Bay, Wilcocks pulled out the motor and sent it to get fixed by another Top Deck bus enthusiast based in Brisbane. When the motor was finally returned in working condition, Wilcocks could begin driving the four-metre tall behemoth.
"They aren't easy to drive," Wilcocks said. "It has a six-cylinder gardener motor in it, chugs down the highway at 80 kilometres an hour and has a very slow revving motor. It has a crash gearbox and no vacuum brakes or power steering, so it's not easy to park."
But the old-style bus is still treasured by both Paul and Roz Wilcocks. Like the Top Deck buses that used to get named back in the day, the pair endeared the vehicle with the name 'Tranquilo'. It's a reference to a Spanish word that Wilcocks says means "sit down, shut up, be cool and don't worry". The word was a popular one from back in his Top Deck driving days. The bus is clearly a nostalgic token for the couple.
"It's all definitely worthwhile," Wilcocks said. "It's all aluminium and timber and it just lasts and lasts ­– it hasn't seen a garage in 25 years."
The pair had first looked to use the bus commercially.
"The original plan when we got it was to make money – use it as an accommodation and a wedding bus," Wilcocks said. "But motor issues and Cyclone Debbie took years off of it, so we put the handbrake on the idea."
The couple has just started their retirement, having sold their caravan park in Hydeaway Bay in early May. The Wilcocks' are now intent on using the bus for their own leisure. Drivers along the east coast will be seeing the restored bus chugging along highways in the coming years, with a happy retired couple behind the wheel, reliving the days when they first met.
"Our first trip was down to Ballina and back a few years ago to visit my family and it went pretty well," Wilcocks said. "Now we're looking for our next one – we'll definitely be doing some trips with it soon."
Subscribe to our newsletter
Sign up to receive the ABC e-newsletter, digital magazine and other offers we choose to share with you straight to your inbox
You can also follow our updates by liking us on Facebook. 

Related Posts