ABOVE: Toronto's hottest outdoor space, RendezVous, with its bright colours, lively atmosphere, and all-around great vibes. (PHOTO: Curtis Pixels)
---
We've all been cooped up over the past couple of years, but with travel restrictions gone and pandemic mandates lifting, it's time to get your revenge and make this your ultimate 'hot girl' summer.
Revenge travel, a term circulating on social media for a few months now, refers to soothing your travel itch after over two years of lockdown and re-visiting places you love, visiting places that have always been on your bucket list, or being extra extravagant in your travel plans. Well, Toronto is the perfect city to do so.
Toronto is an exciting place to visit–full of rich culture, a massive food scene, and endless activities to do and sights to see. Whether it's a quick, last-minute girls' weekend or a week-long stay, you can find luxury in Toronto that will make you feel like you're on an international getaway, even if you're only a few hours from home.
ABOVE: Opened in 2018, Hotel X Toronto is the only luxury resort-style hotel in Toronto.(PHOTO: Hotel X Toronto)
---
A waterside resort right in the city
Who says you have to go to the Caribbean for the resort treatment? The stunning and luxurious Hotel X Toronto, located on the grounds of the historic Exhibition Place on Lake Ontario, is a true oasis. Opened in 2018, the Library Collection-managed property is a hotel and athletic club, so it is ideal for anyone visiting for business or leisure who still wants to keep up with their fitness and sports routine.
The athletic club, 10XTO, is membership-based, but as a hotel guest, you have complimentary access to some of the club's offerings, including the state-of-the-art Primary Centre Fitness Gym and the Kid's Play Centre. For an additional fee, access other 10XTO offerings like fitness and wellness classes, tennis courts, and the super cool TopGolf Swing Suite––an immersive, virtual sporting experience.
ABOVE: Hotel X Toronto guests can access 10XTO's sporting amenities like the full-size tennis courts for an additional fee. (RIGHT) Hotel X Toronto's rooftop pool extends from inside to outdoor. (PHOTO: Hotel X Toronto)
---
Another amenity offered by Hotel X is a gorgeous rooftop pool. The 55-foot pool is uniquely half indoor and half outdoor so that it can be enjoyed year-round and provides the most stunning views of Toronto's waterfront. From 9 pm to 11 pm nightly, the pool is open to adults only, making it a relaxing and romantic way to top off your night.
Want extra indulgence? Book a pamper session at the hotel's on-site Guerlain Spa. The only spa of its kind in Canada, it is the perfect place to freshen up with a beauty treatment or shop some of Guerlain's luxurious fragrances and skincare products. The spa's services include mani-pedis, facials, and body massages that can be easily booked via the spa's website or in person during your stay at the hotel.
ABOVE: Hotel X Toronto's exclusive Guerlain Spa offers beauty treatments like pedicures, manicures, body massages, and facials. (PHOTO: Hotel X Toronto)
---
The hotel has three on-site restaurants, two cafes, two bars, and great in-room dining options. I recommend ROSES Cocina, located on the hotel's second floor. This fusion-style restaurant blends flavours and styles from across North America to create truly satisfying dishes. For breakfast, try the Pancakes Supreme––a stack of fluffy pancakes topped with ricotta, berry compote, and smoked agave syrup—delicious! The Lobster Club is flavourful, buttery and perfectly satisfying for a late lunch or early dinner.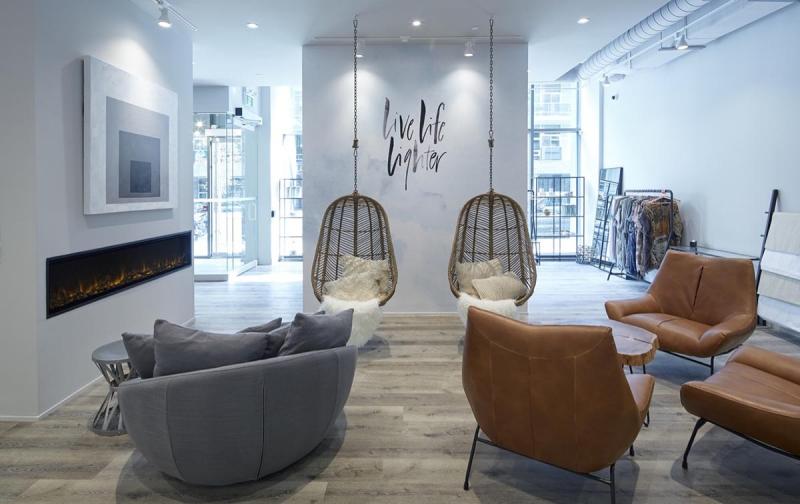 ABOVE: Hoame Meditation's reception area is just as calming as their wellness classes. (PHOTO: Hoame Meditation)
---
Rejuvenation and fun
Whether you're up for some relaxation and healing or some out-of-the-box fun, Toronto has endless options for you. Relax and rejuvenate your body by taking a class at the serene Hoame Meditation. This gorgeous studio offers wellness and meditation classes, including a fascinating and very calming Chakras 60 class. Led by Nanda Yogini, this 60-minute session aims to get you to the highest point of relaxation and teach you all about the body's seven chakras. This class is an excellent introduction to this very interesting and ancient understanding of the human body and soul.
ABOVE: The projection of Fire with Fire plays every evening (starting at 8:30 pm) until the end of September on the South Terrace of the Power Plant Contemporary Art Gallery. (Photo: The Power Plant Contemporary Art Gallery) The Textile Museum of Canada houses over 13,000 pieces in its permanent collection. (Photo: Textile Museum of Canada)
---
After you've been rejuvenated, take in Toronto's art scene! Did you know that the city is home to dozens of art galleries and museums? Besides the world-famous Art Gallery of Ontario and Royal Ontario Museum, other galleries in the city provide a unique glimpse into its art scene, both historical and contemporary.
The Power Plant Contemporary Art Gallery, located right on Queens Quay West's waterfront, is a cool relic of Toronto's past. This century-old space operated as a power plant until it was repurposed as an art gallery in the 1980s. Celebrating its 35th anniversary this year, the gallery, which is free to visit, features ever-changing exhibits by Canadian contemporary artists. Many of the works showcased push the envelope and focus on cultural and social ideas and issues. One of the current exhibits, BREATHLESS, curated by Ala Roushan, is a prime example. Featuring works by artists Flaka Haliti, Marguerite Humeau, Donna Kukama, and Julius von Bismarck, the exhibition is a multimedia experience focusing on racial injustice and the climate crisis. The way in which the artists have used "being breathless" to tie both of these social issues together is fascinating, and the exhibition is well worth seeing before it wraps up later this year.
If you're into design, textiles, and fashion, the Textile Museum of Canada is for you. The museum features over 13,000 pieces in its permanent collection, covering the history of textiles over the last two millenniums. The museum features works from Canada and abroad. You'll experience everything from centuries-old traditional garments from Indigenous groups to the modern ways recycled materials are used to make fabric.
For more about Toronto's art scene, check out Art Toronto. The organization hosts an annual fair showcasing and promoting Toronto's and Canada's art scene and independent galleries. Even if you cannot make it out to the fair in the fall, check out the Exhibitor List on their website; it's a great resource to find galleries that you may have never heard of or visited before.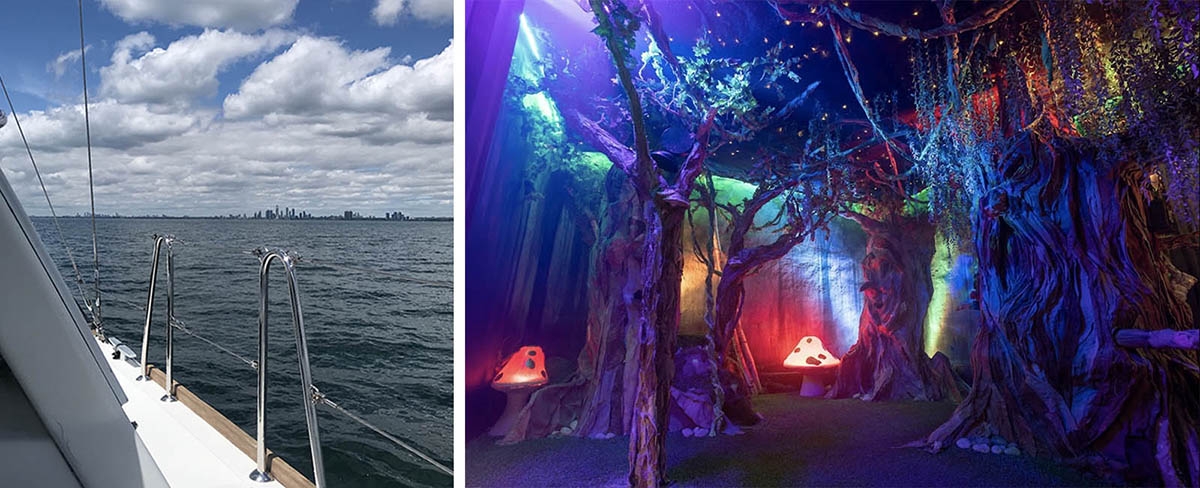 ABOVE: View of Lake Ontario from Gone Sailing Adventure's 3-hour shared boat ride. (PHOTO:  Kayla Walcott) The Dream Portal escape room at Daydream Adventures is whimsical and mysterious. (PHOTO: Daydream Adventures)
---
Wind down by taking a scenic boat ride on Lake Ontario with Gone Sailing Adventures. Rides start at $159 per person, and you can choose between shared or private cruises. The 3-hour shared boat ride is great for meeting new people and socializing. With a maximum of 12 people on the yacht per trip, the experience feels very comfortable and intimate. The captain and crew are super friendly and knowledgeable, so don't be shy to ask questions about the boat itself or any cool sights and wildlife you may come across during your ride.
For some pre-dinner fun, book an hour at Daydream Adventures. This is an escape room like no other; the Dream Portal adventure mixes fantasy and mystery using an incredibly crafted set and audio to immerse you into a different world. Figuring out how to escape the puzzle is such fun. You will be entirely engrossed as you explore every element of the rooms and try to piece together the clues to progress in your adventure. The Dream Portal adventure can accommodate up to seven people, so it's the perfect activity to do with a group of friends or family, and at under $40 per person, it's a worthwhile deal. If this is your first escape room experience, don't worry; the Daydream Adventures team is extremely friendly and helpful with any questions or concerns you might have.
Wine and dine in style
Toronto's food scene is as trendy as it is delicious, and whatever you're craving, you're sure to find. Start your evening off with some pre-dinner cocktails at one of the city's top bars or lounges. For something moody and modern, stop by the experimental and innovative Barchef. Located in the heart of Downtown Toronto on Queen St. West, Barchef merges craft cocktails with the artistry of five-star chef plating to deliver the most incredible cocktail experience. Perfect for a date night or to catch up with a good friend, this intimate spot offers a range of sophisticated, crafted cocktails that are so beautiful that you'll not want to drink them! We ordered the Sailor's Mojito and the Strawberry & Basil Spritz; they were almost too stunning to consume!
ABOVE:Barchef's "Sailor's Mojito" is as incredible to the eyes as it is to the palette. (Photo Credit: Barchef) Toronto Chinatown spot R&D features delicious Asian-fusion dishes like cucumber salad, Pekin duck, and French onion soup spring rolls. (PHOTO: rdspadina)
---
If you're seeking something more classic and a bit mysterious, drop by A Toi– a modern-day speakeasy! Speakeasies first became prominent in the United States during prohibition in the 1920s and early 1930s and were secret, hidden bars selling illegal alcohol.  Though the need for speakeasies faded once alcohol was legal, their novelty carried on. Over the years, speakeasy-inspired bars have continued to pop up all over the world, including right in Toronto. This spot is hidden behind the guise of an oyster and wine bar, and the experience is so fun. All the staff are in character with the secretive theme; you're not even allowed to take any photos or videos in the bar–you have to make a reservation and experience it yourself!
After drinks, indulge in your choice of trendy and equally delicious restaurants. In the city's historic and vibrant Chinatown, located at the intersection of Spadina and Dundas, R&D is one of my top picks. Co-owned by MasterChef Canada season one winner Eric Chong and his mentor, world-famous Hong Kong-Canadian chef Alvin Leung, this spot serves up Asian-fusion dishes, heavily influenced by Korean and Chinese classics, with a modern twist. Must-try dishes include the spicy cucumber salad, the French onion soup dumplings, and the Pekin duck, listed on the menu as the "Best Duck in the City."
Selva, located on Richmond St. West, is a must for some tropical vibes. Described as a "multi-sensory art resto bar," an evening at Selva is not only a treat to your taste buds but also your eyes and ears! The restaurant is on the lower level giving it a moody, underground club vibe. The lights are kept low, and the walls are adorned with neon murals depicting monkeys, tigers, elephants, tropical flora, and other wildlife reflecting the restaurant's South East Asian, specifically Thai, influences. When it comes to the menu, the vibrant South East Asian theme continues. Award-winning Thai culinary genius Chef Nuit Regular heads Selva's kitchen and has curated a gorgeous array of dishes–her love for refreshing and bold flavours and her artistry is evident on every single plate.
Order the fresh Scallop Ceviche and the perfectly crispy deep-fried Corn Fritters for appetizers. For your main, try the DIY Tacos or the Grilled Fish. The dishes are big enough to share, so I recommend ordering both if you're with a friend to get a taste of everything. Don't forget to pair your meal with one of Selva's drinks like the Espresso Cocktail–a yummy mix of espresso, coffee liqueur, and vodka that will perk you up after a long day.

ABOVE: RV East, co-operated by Selva, features an extensive menu of cocktails and light eats. (PHOTO: Kat Walcott) Large outdoor patio bar RendezViews is always busy, so reserve a table online before you visit. (PHOTO: RendezViews)
---
Still not ready to call it a night? Walk over to RendezViews right next door! In the early stages of the pandemic, multiple restaurants and clubs collaborated to create what has become Toronto's hottest outdoor space with its bright colours, lively atmosphere, and all-around great vibes.
Divided into RV East and RV West, Selva is one of the co-operators of the east side, and it is a great place to enjoy more drinks and food and to socialize. If you're visiting during the week, they have awesome offerings during Happy Hour on Thursdays and regularly host live musicians and screen major sporting events. Make a reservation because this spot is hot and always busy.
Seasonal and special events
One of my favourite things about Toronto is that every weekend, especially during the summer, something exciting is happening in the downtown core. Whether it be festivals, parades, or sports, there is always something to look forward to. In May, the city hosted the first stop of Gumball 3000, a popular luxury car rally created by businessman, race car driver, and husband of hip-hop icon Eve, Maximillion Cooper. The event marked the official return to grand-scale outdoor activities in the city.
Other worthwhile happenings in Toronto include the run of the award-winning play "Harry Potter and the Cursed Child" at downtown's historic Ed Mirvish Theatre that runs until the end of 2022, The TD Jazz Festival, and July's Festival of Beer.
Check out Destination Toronto's "Things to do in Toronto" page for an up-to-date list of attractions and events in the city.
Related Posts