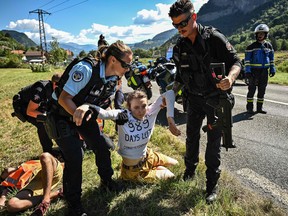 The eight climate protesters wore shirts that read "we have 978 days left"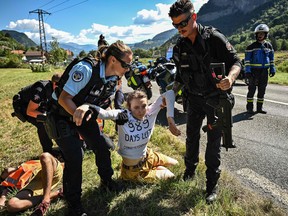 Article content
Cycling fans just want to see an uninterrupted race.
So when eight climate protesters from French campaign group Derniere Renovation tried to block a portion of the 20th stage of the Tour de France on Saturday, fans took it upon themselves to extract some justice by storming the road and dragging the activists away.
According to the Daily Mail, the eight climate protesters — who wore shirts that read "we have 978 days left" — attempted to block a portion of the race on a stretch of road between acapelle-Marival and Rocamadour.
Article content
In pictures shared on social media, fans can be seen running onto the roadway to push or drag the Derniere Renovation activists off so they couldn't ruin the race.
Article content
It's not the first time Derniere Renovation has shown its presence during this year's Tour de France. According to Cycling Weekly, Saturday's protest was
…
Read the rest