---
Paul and Roz Wilcocks met on a Top Deck Overland tour bus, and now they will be spending plenty more time in one.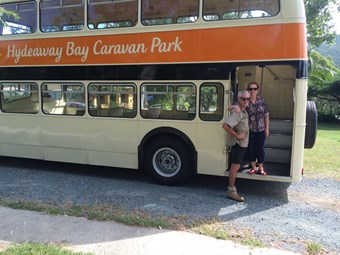 Paul and Roz Wilcocks are enjoying their restored Top Deck bus
Paul Wilcocks still fondly remembers the first time he drove a Top Deck Overland tour bus in the 1980s.
"I was backpacking and sailing around the world, jumping boat to boat," he told ABC. "I got to London and saw an advertisement for Top Deck and they were desperate for road crew.
"I went to do the training trip and got the shock of my life. But I ended up driving around Europe for a season doing half a dozen trips."
After stumbling upon Top Deck Overland tours, Wilcocks found it hard to leave. He was driving or acting as a tour guide on what was known as a party bus around Europe and from London to Kathmandu. Wilcocks recalls many great moments on board the bus, including meeting his wife Roz.
Fast forward 40 years and Wilcocks is finding himself again on a former Lodekka model Top Deck double-decker bus.
It wasn't easy for Wilcocks to find the old-style bus and restore it in north Queensland's Hydeaway Bay. Based in the Whitsundays, Wilcocks stumbled upon the former Top Deck bus after seeing the company's reunion plans on a Facebook group.
He then traversed the internet until he could secure a Lodekka 503BTA model of a Top Deck bus from a wrecking yard – the same model he drove from London to Kathmandu and back. It was shipped to Australia, but not without problems.
"We first had to
…
Read the rest