Tour de France fans tackle eco protesters who blocked race route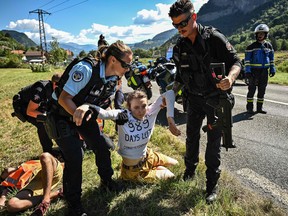 The eight climate protesters wore shirts that read "we have 978 days left"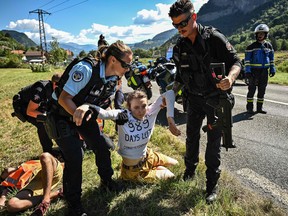 Article content
Cycling fans just want to see an uninterrupted race.
So when eight climate protesters from French campaign group Derniere Renovation tried to block a portion of the 20th stage of the Tour de France on Saturday, fans took it upon themselves to extract some justice by storming the road and dragging the activists away.
According to the Daily Mail, the eight climate protesters — who wore shirts that read "we have 978 days left" — attempted to block a portion of the race on a stretch of road between acapelle-Marival and Rocamadour.
Article content
In pictures shared on social media, fans can be seen running onto the roadway to push or drag the Derniere Renovation activists off so they couldn't ruin the race.
Article content
It's not the first time Derniere Renovation has shown its presence during this year's Tour de France. According to Cycling Weekly, Saturday's protest was the third disruption incident by the French climate activism group.
In a statement obtained by the Daily Mail, Derniere Renovation said a group of citizens who support the organization "tried to interrupt the Tour de France time trial," noting the incident was "the fourth in a series of disruptive actions that will continue until there is a credible and effective government commitment to isolate buildings."
Article content
"If nothing is done, the climate crisis will devastate entire swaths of our planet, as its disastrous consequences in our country have already witnessed this summer, and will condemn billions of people to death," the group added.
Article content
In a separate statement, Derniere Renovation said it "will start again as many times as necessary to make our government react."
"Not a day should go by without the climate emergency being at the heart of the political agenda."
Many didn't sympathize with the activists' actions to raise awareness.
'I understand the group's motivations — but not by doing this kind of thing at such a cycling event… Frankly pathetic, especially since pro cyclists almost fell because of you … that's pathetic," one stated on social media.
Four men and two women were arrested at a separate protest on Friday. If found guilty, they face two years behind bars and a 4,500 euros ($5,917) fine.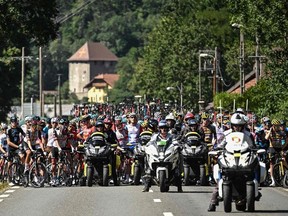 Related Posts