Whether you are looking to be a better surfer, or need a massive sea change in your life, a 10-week surf instructor course can provide the tools you need. Wavelength talks to the surfers that run the course, and surfers that have completed them. It might be a pathway to a better life.
"Did my surfing improve? Well, I went from riding an eight-foot learner board to a 5'4" fish. That pretty much says it all."
That was UK surfer Anna Wotton. The dairy farmer from Devon travelled to Australia in 2019 and learned to surf. She returned home just as Covid hit and spent the lockdown on her parents' farm. As soon as the restrictions were lifted she was looking to travel and surf.
"I came across Ticket To Ride's 'Zero to Hero', a ten-week surf instructor course in Sri Lanka," the 25-year-old said. "It sounded like just what I needed; adventure, surf, coaching, and even some qualifications at the end."
Ticket to Ride has been running the ten-week courses out of their surf house bases in Ahangama, Sri Lanka, and Cape Town, South Africa for a decade. The courses take in the fundamentals of surfing, and all the requirements for an ISA Level 1 Surf Instructor Award and Surf Lifeguard Qualification, which enables you to work as an instructor anywhere in the world.
"I really believe the coaching is key," said TTR's Chris Bond, who runs the Cape Town operation and is a coach to some of South Africa's best young professional surfers. "In Sri Lanka under Head Coach Nikita Robb, a former elite competitor, the top-level instruction means you become a well-rounded surfer. You learn to surf different waves and have the knowledge to ride different equipment. That means you end up with the skill set to be an independent surfer."
You also get to surf… a lot. Chris reckons most punters average four hours a day, every day, for 10 weeks. There is also an adventure angle with the courses featuring extensive travel. In Sri Lanka, that means traveling from the East to the West Coast, through the beautiful Hill Country. In South Africa, surfers can surf from Cape Town to Durban, taking in around 1500 miles of incredible coastline, community projects, and waves. You've heard of J-Bay, right?
Wotton claimed she would never have seen so much of Sri Lanka if she had traveled solo. She cited the opportunity to travel safely in a group and get way out of her comfort zone as one of the best parts of the course. The new cutbacks and top turns on her 5'4" Fish were just icing.
"I'd say the first nine weeks is just building your knowledge on all aspects of surfing," says Wotton. "Then the last week is more intensive on how to deliver a surf lesson and gaining the qualifications."
Wotton completed her ten-week course at the end of 2021 and stayed on with friends in Sri Lanka to surf some more. In March 2022 with the TTR camp needing a coach, Anna was given the job. She returned to the UK for the summer but is now back in Sri Lanka teaching surfing. Given just three years ago she hadn't stood up on a board, it's a remarkable transformation.
"It was a bit awkward teaching someone who might be better than you, and there's an element of fake it till you make it, but you also learn a lot on the job," she said. "It's just a great thing to do for me right now. Technically I'm a dairy farmer which I will go back to, but right now it's a case of just waiting it out, enjoying my 20s and I'll think about all that adult stuff later."
"Our age ranges from gap year students to postgraduates having a break before the real world and then we have older students, some in their 50s, who have been in the real world, but want out and a want a rethink and reset," said Bond.
He cites a woman who was due to enter the military, but recently did the course, then worked as a surf instructor with TTR in Spain and Sri Lanka. "She is now going back home to study oceanography at university, rather than sign up to hold a gun," said Bond.
The 10-week courses start at £5395 (5-week courses are also available), which includes accommodation, transfers, coaching, guides, transport, involvement in local projects, and the surf instructor course, providing real bang for your buck. You could easily spend that in Seminyak nightclubs in two weeks, and you definitely wouldn't come out with a new career.
"Right now sipping a beer, as the sun sets into the ocean after a day of fun waves in Sri Lanka, I can't imagine where I'd be if I hadn't done the course," concludes Anna, though one would surmise she'd probably be knee-deep in cow manure. "I'm just stoked I did, and that I'm here. I'll deal with the rest of my life later."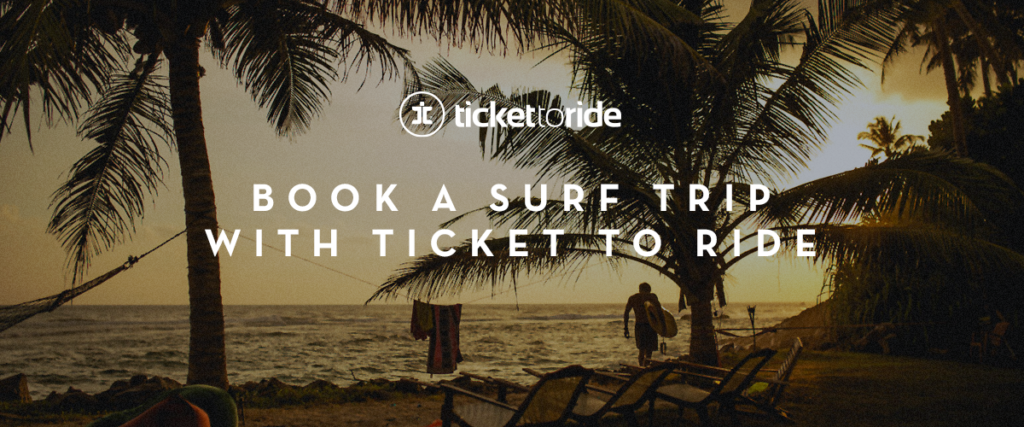 Related Posts